News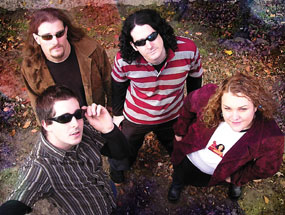 BLURT (BLUe mountains Rock Team)
If you want to discuss local music, bands, or anything from the Mountains or Penrith area, visit groups.myspace.com/blurt. You can also visit myspace.com/obzinerecords.

Back to business
This month we are back online with our business site. The online zine is no longer running but we are still looking to promote bands through other avenues. Thanks to all who supported us.

Glister shines
Local band Glister (pictured) placed third in the finals of the 'Best of the West' band competition at O'Donoghues Emu Plains. They perform their own headline gig on March 23 from 8pm. Check the shows page for details. Glister's new album is available in selected stores.

Ready, set, Spaghettios
The Spaghettios return to the Empire in Annandale on May 8 after the sold-out performance with Brothers Daft recently. Visit the 'shows' page for further details.

Venue on the menu
We are currently looking for a venue in the Penrith or Mountains area that is willing to let us run all ages band nights (monthly or fortnightly). If your venue is interested please contact Mark 0433386610.

Repressed relocates
Currently distributing many Obzine Records CDs, Repressed Records in Penrith has relocated to Station St, opposite the Cash Converters purchasing office. Just 2 minutes from the station, stocking the sickest local music.